Intense Heat Therapy revives the body on a cellular level. It removes toxins accumulated in the organs and muscles. The intense heat relieves muscle tension, and creates a sense of relaxation and general well-being.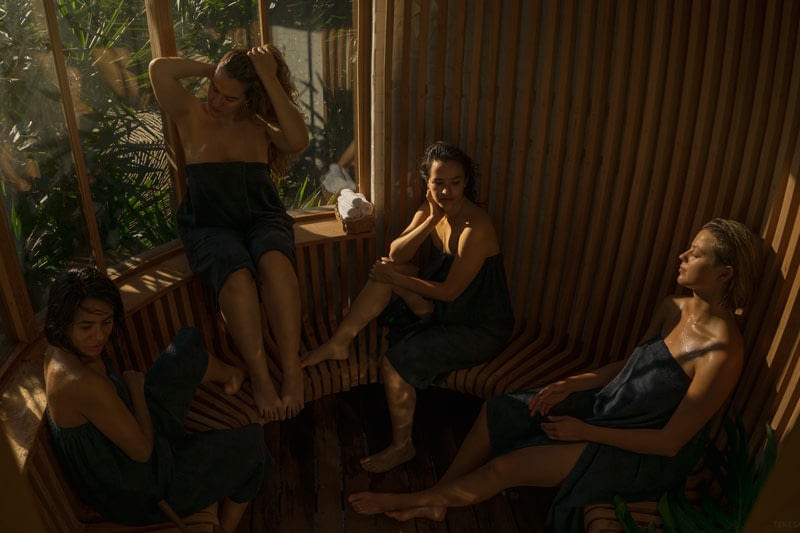 This treatment combines a steam bath with the benefits of a clay body mask fused with essential oils to create an energizing action in our body that detoxifies and softens the skin, followed by a therapeutic massage that stimulates the circulatory system.
Therapeutic massage
Steam
Clay Mud Therapy
Price: US $ 120 + taxes
1 hour 50 minutes of therapy
The results that wet steam baths give us in combination with aromatherapy help us to detoxify the body through our pores, leaving them free to receive all the nutrients from the essential oils used in a deep relaxing massage, restoring our feeling completely.
Steam
Relaxing massage
Price: US $ 65 + taxes
1 hour 10 minutes of therapy
A balance in the body, Mind and soul is what all people want. This therapy is based on bringing a balance of our natural elements through a body wrap of mud and treating directly on body energy points by means of heat stones and a deep massage during the application of hot stones.
Steam
Clay Mud Therapy
Hot stone therapy – geothermal
Price: US $ 120 + taxes
2 hour 10 minutes of therapy
In this therapy we use its wonderful power to mobilize energy within our body through exfoliation and lymphatic drainage. By releasing toxins with a deep wet steam bath, we clean the tissues with the exfoliation of honey and sugar, ending with a massage that renews and cleanses our pores and deeply improves circulation.
Steam
Exfoliation
Lymphatic drainage
Price: US $ 120 + taxes
2 hours of therapy.
The best way to bring our skin to an intense and deep renewal is by giving it the necessary care. Starting with a wet steam bath followed by a salt and coconut exfoliation that cleanses and stimulates the skin. Covered the body full of clay mud mask fused with nutrients from organic flowers. We end with a floral and coconut oil bath and a therapeutic massage that eliminates toxins, leaving the skin prepped for a complete regeneration.
Therapeutic massage
Steam
Body scrub
Clay Mud Therapy
Floral bath
Price: US $ 180 + taxes
3 hours 20 minutes of therapy
In the feet is reflex points of each organ of our body. This therapy acts directly from the renewal of the skin, the elimination of toxins using a hot bath with medicinal herbs specially chosen and harvested from our organic garden that promote better circulatory and anti-inflammatory functioning and deeply with a reflex massage.
Foot massage
Exfoliation
Foot bath
Price: US $ 80 + taxes
1 hour 20 minutes of therapies.
Rejuvenates, revitalizes and renews the face. This therapy is carefully designed to give it life and luminosity. Promoting a profound skin renewal through a mixture of coconut oil and sea salt and also a mud cover that completely moisturizes the skin. The result of this set of therapies gives us positive changes in skin health.
Facial scrub
Mud Facial therapy
Facial massage
Price: US $ 60 + taxes
1 hour and 25 minutes of therapy